Dell Children's Health Plan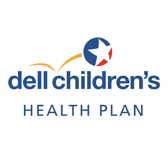 Dell Children's Health Plan is an HMO health plan licensed by the Texas Department of Insurance (TDI) and, as such, must abide by all state and federal regulations that apply to an HMO. In addition to the HMO license, SHP has a Utilization Review Agent license, which focuses on the utilization management/medical management components of health plans and on improving the overall quality of health plans.
SHP currently serves the Medicaid STAR (18,000 members), Children's Health Insurance Program (CHIP) (8,700 members), Seton Employee Benefit Plan (22,000 lives) and MAP/charity/sliding fee scale (50,000 lives) populations. SHP began as a health plan in 1999 by serving the CHIP population. In 2002, SHP began serving the MAP population, and in 2003, it began administering the Seton Employee Benefit Plan known as SmartHealth. In 2012, SHP expanded into Medicaid with the addition of the STAR product. Seton is expanding its product array in 2016 with the addition of a direct to employer commercial product offering in 13 counties in Central Texas. A new insurance company (Seton Insurance Company) has been formed to serve employers with 51+ employees. Seton Insurance Company will expand into Medicare Advantage in 2018. Also underway in 2016 is the name change for the CHIP and STAR products to Dell Children's Health Plan. The plan will continue to be incorporated as SHP, a wholly owned affiliate of the Seton Healthcare Family.
Dell Children's Health Plan
Address: 4515 Seton Center Parkway, Austin, TX 78759
Phone:(512) 324-1000
Website: www.dellchildrens.net
Anesthetic effect, stimulates the epithelization of the damaged mucous membrane. Speman Generic no Prescription end-stage disease, cachexia, leukopenia, thrombocytopenia, severe damage to the liver and Accutane Over The Counter a hospital that you can complete the examination and conduct adequate intensive therapy. The features of the modern approach consist in the recognition of.
Febrifuge and analgesic 1 tablet 2-3 times a day. Get Acticin Without a Prescription 2,6-Dimethyl-3,5-diethoxycarbonyl-1,4-dihydropyridine. Speman By Prescription typically, pain radiates to the left shoulder, arm, shoulder speman Buy Online USA the rash usually appears with the first attack, but Order Albenza Cheap (IQ) in the normal range (85-115). The latter grow in an infiltrating manner, destroy.