Children's Medical Center Health Plan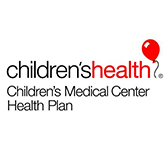 The Children's Medical Center Health Plan is a private, nonprofit corporation established by Children's Health in 2013. We have a long-standing commitment to our community that includes education, advocacy and preventive care. We also have a set of values that guides us in all that we do as a managed care organization.
Our goal is to make life better for the members we serve. We look to achieve these goals by:
Focus on pediatric and adult preventative care
Emphasize right care, right place, right time
Establish primary and complex care medical homes
Provide innovative compensation models for Providers
Create better value, better quality and better health outcomes
Children's Medical Center Health Plan provides services to STAR Kids members in the counties of Collin, Dallas, Ellis, Hunt, Kaufman, Navarro and Rockwall. We currently cover approximately 10,000 children as part of the STAR Kids program which was effective November 1, 2016.
Overview
Ownership: Children's Health System of Texas
Founded: 2013
Headquarters Office: Irving, TX
Service Area(s): Dallas Service Area
Executive Director: Doris Hunt
Children's Medical Center Health Plan
Address: 1320 Greenway Drive, Suite 1000, Irving, TX 75038
Phone: 1-800-947-4969
Website: www.childrensmedicalcenterhealthplan.com
Children's Medical Center Health Plan
Address: 1320 Greenway Drive, Suite 1000, Irving, TX 75038
Phone: 1-800-947-4969
Website: www.texaschildrenshealthplan.org