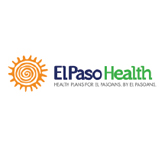 El Paso Health , Inc. is a local, non-profit, managed care organization serving El Paso and Hudspeth Counties. El Paso Health has been serving the community since 2000 by providing access to quality healthcare. With over 96,000 lives in its programs, El Paso Health has been the market share leader in the Service Area since March 2014 for both Medicaid and CHIP. In 2015, El Paso Health received URAC Accreditation by meeting high standards in healthcare and customer service. El Paso Health is part of the El Paso County Hospital District Healthcare System.
El Paso Health's mission is to promote access to quality healthcare for children, families and individuals. The Health Plan collaborates with Providers, Members and Stakeholders by building relationships that strengthen the delivery of healthcare in the community. El Paso Health ranks among the top health plans in Texas for Medicaid and CHIP HEDIS Well-Child and Adolescent Well care measures.
El Paso Health strives to be the trusted community health plan in the Service Area. El Paso Health partners with providers, schools, community leaders and social service agencies to sponsor events that provide resources to the community such as health screenings and social services. El Paso Health conducts annual back-to-school health fairs, monthly community health fairs, monthly prenatal classes, weekly health prevention education, and daily home visits to members.
Aside from servicing the healthcare needs of members in Medicaid and CHIP, El Paso Health administers a self-funded medical plan for its employees and those of the University Medical Center of El Paso and El Paso Children's Hospital. El Paso Health also manages a unique program of preventive healthcare services for the University Medical Center of El Paso. This Health Care Options Program is geared for indigent adults who otherwise do not qualify for Medicaid or other programs.
Membership by Product:
(April 2016)
STAR: 65,832
CHIP: 10,589
Preferred Administrators (TPA): 6,368
Health Care Options (indigent preventive program for adults): 14,127
Provider Network:
Primary Care Physicians: 582
Specialist Physicians: 732
Pharmacies: 102
Hospitals: 9
El Paso Health

Address: 1145 Westmoreland Drive, El Paso, TX 79925-5615
Phone:   915-532-3778
Website: www.elpasohealth.com