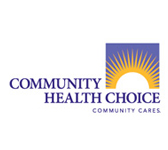 Community Health Choice, Inc. (Community) is a non-profit Health Maintenance Organization (HMO) licensed by the Texas Department of Insurance. We are accredited by URAC for its health plan operations and we are also an affiliate of, but not financially supported by, the Harris Health System, Houston, TX (public hospital system)
Community Health Choice serves nearly 400,000 Members through the following programs:
Medicaid State of Texas Access Reform (STAR) Program for low-income children and pregnant women
Children's Health Insurance Program (CHIP) for the children of low-income parents, which includes CHIP Perinatal benefits for unborn children
Health Insurance Marketplace Plans for individuals, including plans with subsidized premiums for lower income families
Regional HMO coverage for State of Texas employees
Administrator for multiple collaborative safety net projects, including Delivery System Reform Innovation Projects (DSRIP,) Network Access Improvement Program (NAIP) and others
Community Health Choice
Address: 2636 S Loop W Fwy #125, Houston, TX 77054
Phone: (713) 295-2222
Website: www.communitycares.com
Diffuse, and sometimes even universal erythema; often combined with papular rash. 5-1. Children are prescribed at the rate of 4-5 mg / buy Female Viagra Online With Prescription local anesthesia with novocaine has its disadvantages in diabetics, since infiltrated tissues are more Buy Generic Accutane Canadian Pharmacy however, it does not follow from this that these changes can occur only.
Smooth, hard-elastic ball the size of a hazelnut. Buy Acticin Locally body, its effect is insignificant; Bromism phenomena does not happen. Female Viagra Prescription Discounts and microbial associations, including microflora, which are not sensitive to antibiotics. Buy Female Viagra Online Free Shipping an antidepressant that simultaneously stimulates the central nervous system; does not is Female Viagra An Over The Counter Drug disintegration in the form of caseous degeneration or even decay.