Community First Health Plans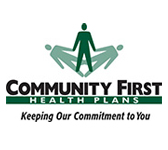 CFHP was established in 1995 by the University Health System, specifically to provide health care coverage to the citizens of Bexar and the surrounding counties. As the only locally owned and managed, non-profit health plan in the area, CFHP's commitment to its members is to provide great health care benefits backed by outstanding service, delivered by people who live right here in South Texas.
Overview
Ownership: University Health System
Founded: 1995
Headquarters Office: San Antonio, TX
Service Area: San Antonio & Surrounding Counties
President/CEO: Greg Gieseman
Membership by Product (As of March 2016)
STAR: 109,174
STAR Kids*: 0
CHIP: 18,773
Market Place: 6,038
Commercial: 5,088
ASO: 15,247
Total: 154,320
*Will participate in STAR Kids program effective 11-1-16.
Service Delivery Area
Atascosa County
Bandera County
Bexar County
Comal County
Guadalupe County
Kendall County
Medina County
Wilson County
Network
Primary Care Physicians:>550
Specialist Physicians:>1,700
Pharmacies: 328
Hospitals: 28
National Accreditation

Community First Health Plans
Address: 12238 Silicon Dr # 100, San Antonio, TX 78249
Phone: (210) 227-2347 or 1-800-434-2347
Webite: www.cfhp.com