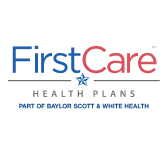 At FirstCare Health Plans we put down roots and we've watched them grow—from our humble beginnings to now serving more than 185,000 members. In fact, we're owned by two Texas hospitals—Covenant Health and Hendrick Health System—and through them, are even more connected with our communities. We serve 143 counties, with local offices in Abilene, Amarillo and Lubbock, and corporate offices in Austin.
FirstCare was founded in Amarillo in 1985, and we're still locally owned and Texas based. We believe that all Texans and our communities should be healthy and that health care should be accessible to everyone.
Our lines of business include HMO, PPO, Medicare Advantage, Medicaid and CHIP products, as well as ancillary offerings, for both groups and individuals. And, our deep commitment to our communities helps us provide our members access to exceptional quality of care from some of the best hospitals, doctors, and health services.
Our mission is to provide our customers access to high quality, affordable health care through strong partnerships in the communities we serve.
Facts at a glance:
Founded in: 1985
Number of Employees: Approximately 365
Coverage Area: 143 counties in Texas
Membership: More than 185,000
Network: 115 hospitals; 12,000+ physicians; 1,200+ ancillary and other facilities; 130+ pharmacies
FirstCare Health Plans
Address: 12940 N. Hwy 183, Austin, TX 78750
Phone: 1-888-249-7366
Website: www.FirstCare.com