Parkland Community Health Plan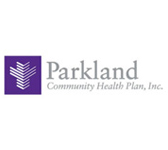 Parkland Community Health Plan offer Medicaid STAR and CHIP (Children's Health Insurance Program) health insurance for children, teens, pregnant women and adults. We are proud to be locally owned and locally operated.
These health insurance programs cover doctor visits, regular checkups, immunizations, lab and x-rays tests, hearing and vision tests, hospitalization, surgery, emergency services, urgent care services, home health care, DME/medical equipment, and more.
Overview of Parkland Community Health Plan

Ownership: Non-profit corporation controlled by Parkland Health & Hospital System
Founded: 1996
Offices: Dallas, TX
Service Area: Dallas, Collin, Ellis, Hunt, Kaufman, Navarro and Rockwall Counties
CEO: John Wendling
Membership by Product
Effective Date: 2/1/19
STAR: 159,000
CHIP: 26,000
Total: 185,000
Network
Primary Care Physicians: 958
Specialist Physicians: 3,531
Pharmacies: 709
Hospitals: 31
Parkland Community Health Plan

Address: 1341 W. Mockingbird Lane, Suite 1150E, Dallas, TX 75247
Phone: 214-266-2100
Website: www.parklandhmo.com