Baylor/Scott&White Health Plan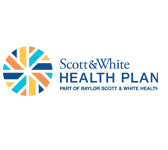 Scott & White Health Plan began operation in January of 1982 as a not-for-profit health maintenance organization. It was originally conceived as way to combine the well-respected Scott & White institution with a practical, efficient system of pre-paid health care.
First called the Centroplex Health Plan, the health plan service area focused primarily in Bell and Coryell counties in Texas. The health plan eventually evolved into a vast health care network, employing thousands, covering over 240,000 members, and having a service area and networks encompassing 77 Central, North, and West Texas counties, with 116 hospitals, and more than 10,700 providers (all products – Commercial, ASO, Medicare, Medicaid, PBM).
Scott & White Health Plan is closely affiliated with its parent organization, Baylor Scott & White Health. The health plan's role in the overall organizational mission is to provide access to health care in a manner that encourages responsible utilization of resources. The health plan's initiatives, from disease management and clinical programs to formulary management and member education tools, complement the traditional values of Baylor Scott & White Health. The health plan's programs have a micro-focus on quality outcomes as the most efficient way to provide health care. Our clients and members greatly benefit from the integrated partnership the plan has with Baylor Scott & White Health.
Scott & White Health Plan
Address: 1206 W. Campus Drive, Temple, TX  76502, MS-A4-126
Phone: 1-866-522-2515
Website: www.swhp.org